---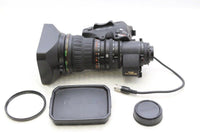 This used Fujinon ZA17X7.6BERM-M48 HD  is an HD selct Series High Performance Lens ENG Style with manual focus and Digi Power servo zoom.  For use in studio and other production applications requiring the highest optical quality
 All glass in perfect condition with no scratches, pits, fungus or dust inside the glass elements. 
The Fujinon ZA17x7.6BERM-M48 is a 2/3" ENG sytle HD lens with 2x extender built-in - ideal for camcorders such as the AG-HPX500 and AJ-HPX2000, AJ-HPX3000, AJ-HPX3700, AG-HPX2700, HDW-F900R, PMW-500, PDW-700, PDW-F800, or any 2/3" broadcast camcorder with 12 pin lens connector. This high definition 17x lens features a focal-length range of 7.6-130mm (260mm with extender), digipower servo technology including variable zoom speeds, and quick zoom technology to quickly verify focus. This is a ZA series lens, using Fujinon's high quality glass/optics and build quality.
All pictures are of the actual items being sold. The item includes 30-Day Warranty. 
-      
Fujinon ZA17 X 7.6BERM- M48 HD 
Zoom Lens